Following on from the Drum Lesson Warm Up posted a few days ago, this intermediate drum warm-up is for drummers that have reached a higher level of ability (about Grade 4-6 but could be used by higher grades too).
---
PDF Download
This download actually includes Part 1 and Part 2 of the warm up.
Intermediate Drum Warm-Up – Free PDF Download
---
Exercise 1 – Intermediate Snare Warm-Up
Each of the 4 lines starts with a paradiddle, then the second half changes each time. The first line is singles, the second line is doubles, the third line is 4 with each hand and the 4th line is a 3-3-2 pattern (RLLRLLRL).
Exercise 2 – Paradiddle Drum Beat with Sticking Patterns on the Drum Fill
Using the sticking from exercise 1, we change the paradiddles into a drum beat by moving the right hand to the hi hat and the left hand to the snare drum. The drum fill then borrows the sticking we used in exercise 1, from the second half of each line.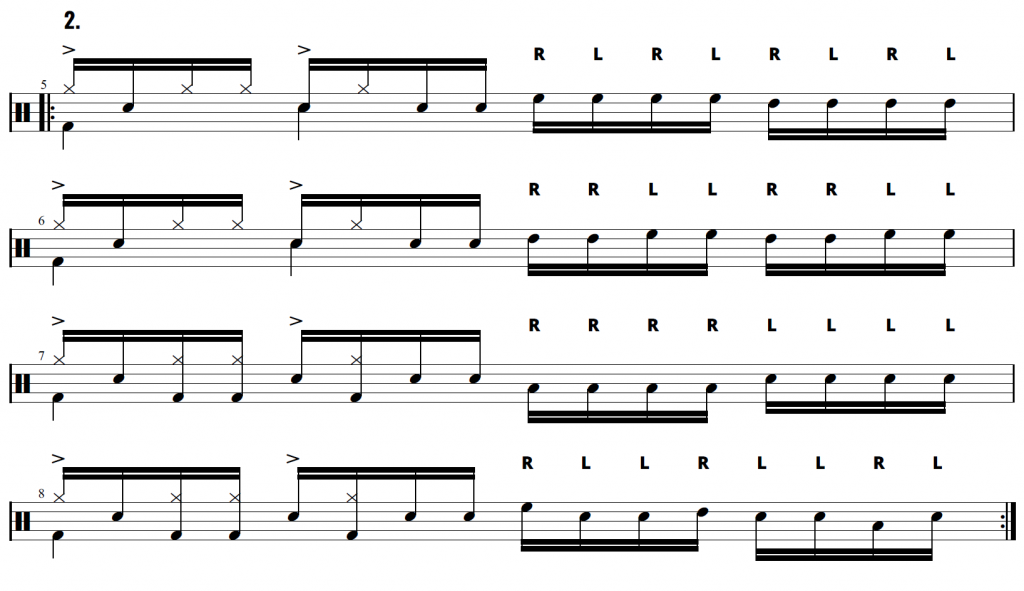 Exercise 3 – Funk Rock Drum Beat and Drum Fill working on fast double bass drum with 1 foot
A rhythmic bass drum pattern with 16th note hi hats followed by a drum fill that works on the bass drum.
Exercise 4-7
You can continue onto exercises 4-7 here: Intermediate Drum Warm-Up – Part 2.